Home Page | FAQ | Gallery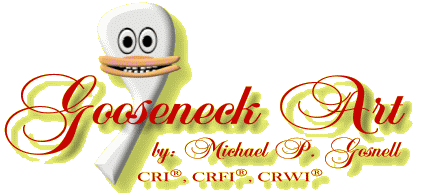 ---
Comments from the Gooseneck
---
These classes will allow you to experience the joy of creating beautiful oil paintings of Mother Nature's natural wonders. We use the materials and tools that were designed and formulated by the Bob Ross Company, to make it possible to complete an entire painting in just one class.
The topics of the paintings are landscapes, seascapes, florals and even the beautiful, new wildlife paintings. If you find one of these on the Bob Ross Site that you want to learn, send me an email so it can be scheduled.
Links in the calendars can be selected to take you to the syllabus for each class. The thumbnail of the painting on the syllabus links to a larger image.
If you would like for me to come to your town, please feel free to send me a note by email, U.S. Mail, or call me at the number below. (Have paintbrush, will travel.)
For those of you who live too far away to attend my classes, there are many Bob Ross Teachers around the world. Just call the Bob Ross Company at 1-800-BOB-ROSS or search the list of teachers on the Bob Ross web site. The web site is http://www.bobross.com. Isn't that easy to remember?
---
Top of Page | Home Page | FAQ | Gallery
Michael P. Gosnell
P.O. Box 733
Grover Beach, CA 93483
Telephone: 805-473-4631
mpgosnell@yahoo.com
Last Update to this page:
October 21, 2001
Bob Ross, CRI®, CRWI®, CRFI®, are registered trademarks of Bob Ross, Inc.
Michaels and Michaels the Arts and Crafts Stores are registered trademarks of Michaels.
Contact Webmaster All classes are subject to change and/or cancellation.
Copyright 2001 Michael P. Gosnell, all rights reserved.